Looking good should not be complicated
 You want to look and feel your best, but don't want to waste time and money on services that won't work and won't last.
With so many options out there, you're left with so many questions: 
What treatments will work for your skin type?
Will the results look natural?
Are these procedures safe and effective?
Is this worth the investment?
Achieve your beauty goals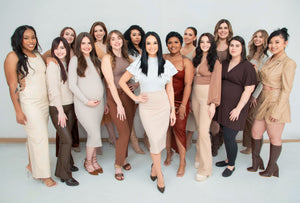 Meet Tina and the Plush Beauty Team
As a beauty professional with a decade of experience in the industry, I know how hard it is to find innovative beauty solutions suited to your needs and beauty objectives.
This is why I founded Plush Beauty Salon — Ohio's premier salon that gives you a personalized treatment plan, designed to achieve your very specifc beauty goals.
Feel fresh and rejuvenated. Bring out your natural beauty. Let our experts show you how.
Licensed professionals
Innovative services
Fresh, natural looks
Relaxing salon experiences
Customized treatments
Wide Variety of Products
EXPERT GUIDES WHO BRING OUT YOUR NATURAL BEAUTY
Our team of estheticians and cosmetic tattoo artists will assess your needs, educate you on your options, and give you treatments that are effective and natural-looking
Book a Consultation
Experience Quality Treatments
Feel Refreshed & Look Your Best
Get cutting-edge beauty solutions that work
Our beauty experts are beauty innovators
Learn about Plush Beauty Academy Courses
Plush Academy was founded by Tina Sharaby to educate the next generation of beauty experts. Focussing on cutting-edge services and techniques while also providing coaching and mentorship for emerging talent, Plush Beauty Academy is dedicated to innovating the beauty industry through quality training and expert guidance.
Feel fresh and rejuvenated. Bring out your natural beauty. Let our experts show you how.
Comprehensive Courses
Professional Development
Hands-on Training
Coaching and Mentorship
Become the beauty expert everyone wants